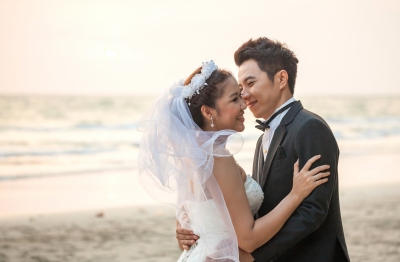 Weddings are special occasions that deserve to be celebrated with all fanfare. The economic situation of today makes it difficult for brides to make their wedding dreams a reality.
The soaring expenses can put a big gloom on your big day. Just like you plan for any other major event in your life, planning for the wedding expenses will help you to make the wedding, a success you had envisioned it to be.
When you know how to plan a wedding on a small budget, you can include in all that you had dreamed of for your wedding without having to make any big sacrifices. Proper planning and investigation can keep your wedding budget within limits, and let you enjoy your day as you should.
How To Plan A Wedding On A Small Budget Effectively:
When you have budget restriction the planning should be done with care. The key factor you should consider while strategizing on the budget is that the bride and groom are the two important people that should matter. All other things are extra trimmings, which can be included or avoided as your budget allows.
So the vital thing to note here is to prioritize your needs. A bit of creativeness and gathering the right resources go a long way in making things materialize according to your wishes.
Wedding planners are known for their expensive charges. The best way you can plan your wedding with a short budget is by taking over the planning yourself. This way you can do all the bartering and negotiation you can think of.
Friends and family can help you with the cash.  They can also provide great tips and ideas on the various aspects of the wedding will help to cut down the costs.
Be Stern With The Guest List:
The guest list is usually the big bone of contention that the bride and groom's families have discord over. But the best way on planning the wedding within a shoestring budget is by cutting down the long guest list.
The guest list is the point where all the expenses start to spiral out of control. Weddings are celebrative events that are to be cherished. Making them memorable lies in the proper planning you do.
While friends and family are important and integral part of the guest list, business associates need not be included. Also distant relatives whom you haven't set eyes on for eons come under the 'to be removed from guest list' category.
Trimming down the guest list to just immediate family members and close friends is needed, if you have a very restricted budget limit. This saves you money and also the effort you take to see to the comfort of the guests on your special day.
Deciding the Dress:
The wedding dress is much dreamed about by the bride and there are so many exquisite designs created that you will not be able to cut down the costs. But you have alternative options here too.
You can search online, in the newspaper advertisements and ask around for stores that sell designer pieces at much lower rates. Craigslist, eBay and even secondhand stores can come up with beautiful dresses.
For the veil, making one yourself will reduce the cost considerably. Or instead of the veil consider wearing a decorated comb or even stunning flowers.
Cutting Down the Less Important Expenses:
There are many things that you can do without, while planning the wedding to keep the budget from going overboard. Here are some of those that you can implement
Ceremony programs, wedding date reminders, guest favors, specially made napkins and bathroom baskets though add a unique flavor to the wedding, will not matter much, if they are not used.
Avoid special toasting glasses, cutlery or cake knives, which are totally not needed. These will come as part of the catering service or the wedding venue, so spending unnecessarily on them is a waste of money and time.
Instead of elaborate flower arrangements, going for the inexpensive and simple arrangement for the bridal bouquet and other floral arrangement on the wedding venue will definitely reduce the costs.
Though a limousine adds a luxurious and classic touch to the wedding, any other unique but less expensive car would also look equally good. And asking a friend to drive instead of a chauffeur also saves you money.
For the wedding cake, order a small one for display and a large one to cut. Serving the cake as dessert instead of another sweet gives you one item less to spend on.
There are things that you can borrow, rent or make yourself in the wedding arrangement from the ribbons to headpieces and cake decoration. Try to enlist the help of friends and family in this matter.
While you think of how to plan a wedding on a small budget, there are things that you should be ready to spend on like the photography, which will stay for a long time. Saving money need not make the wedding lack style. With some creativity and great planning, you can carry it off with aplomb.
Images courtesy of FreeDigitalPhotos.net