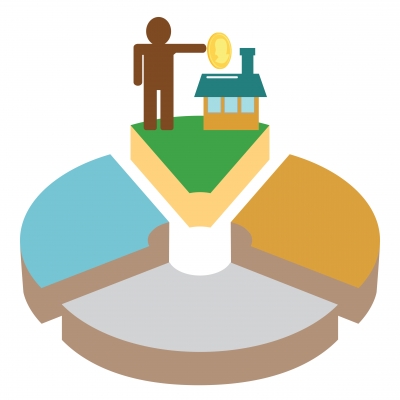 In the olden days, protecting your castle was as simply as building a wall around it and hiring some guards.  Nowadays protection comes in the form of an insurance policy.  In fact, if you have a mortgage on your home, you have no choice but to secure homeowners insurance coverage.
Though there are many different levels of protection you can purchase, it is helpful to understand how to get cheap homeowners insurance by cutting out things you may not necessarily need.   Insurance companies will be happy to sell you all the coverage you're willing to pay for.  But certain types of coverage are just simply unnecessary and may even be redundant.   Your budget will thank you later!
Here are a few types of coverage that you can afford to go without.
4 Ways How to Get Cheap Homeowners Insurance:
Private Mortgage Insurance:
Also known as PMI, private mortgage insurance is designed to protect the lender against loss when giving a mortgage to someone considered to be a high-risk borrower. Since it's not even insurance that protects you, it seems especially ridiculous to pay for it each month. You can avoid being forced to pay for PMI by putting down at least 20% of the home's total value when applying for the mortgage.
A 20% down payment takes you out of the category of high-risk borrowers and eliminates the required PMI payment. Another way to avoid PMI is to consider what is called a "piggyback loan." This involves putting 80% of the home's price on one mortgage and then the putting the balance on a second mortgage. As long as the interest on the second mortgage isn't too high, you'll end up saving money in the long run.
Mortgage Life Insurance:
Technically mortgage life insurance is a not a homeowners policy, but a life insurance policy. The idea is that the balance of the mortgage on the home will be paid off if an income-earning member of the household dies. Just make sure you have enough protection on your actual life insurance policy and don't worry about purchasing such a specific and restrictive policy.
Flood Insurance:
If you live in an established floodplain and you have a mortgage, you'll have to pay for flood insurance. If you don't live in a floodplain, the coverage is almost entirely useless. The chances of a once-in-a-century flood are so remote that it just doesn't make sense to pay for it. Also, most flood insurance doesn't cover personal property, just appliances in the basement, such as a washer or dryer. And if a pipe bursts, your regular homeowners policy would cover it.
Water Line Insurance:
Water companies love to sell this type of insurance that protects you in case you need to repair the water line that runs from the street to your home. If you are particularly far away from the street, water line repairs might end up costing several thousand dollars. But you may never need to pay for repairs at all if the water line is in good condition. If you live fairly close to the street and your home is on the newer side, this can be a good way how to get cheap homeowners insurance by skipping on the water line rider.
Images courtesy of FreeDigitalPhotos.net