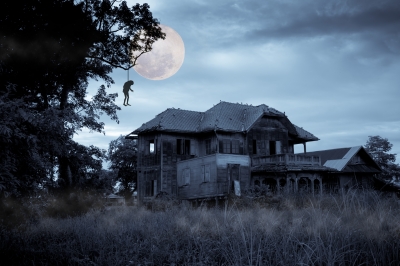 Over the last 10 years, I'm sure there are a lot of people out there who unfortunately have a nasty and scary mortgage story to share.
Maybe their lender tricked them out of money.  Maybe their payment doubled in price.  Maybe they were one of those people who were labeled as squatters because they chose to stay in their home even after they stopped making payments.
When it comes to debt, there's nothing worse than when your mortgage goes sour.  It's not something the credit companies take lightly, and it can haunt you for a long time.
There are a lot of horror stories out there.  What's yours?
My Scary Mortgage Story:
I'll go first.
My scary mortgage story is something that happened to my wife and I in real life about 8 years ago. Our current house (which is also our first house) was a new-build construction and we were very excited about moving into it. We were very young and really only had just barely enough money to finance the project.
Our mortgage agent was some young hot-shot who we stupidly should have been skeptical of from the beginning – because he was referred to us by the home builders (… a dumb move; you should try to get people who are independent of each other). You could tell something was off because he seemed flaky in the meetings and I was constantly having to follow up on things that he seemed to "forget" about.
Then came the big problem: The day before the closing is when the real punch took place. He called me up in the afternoon while at work and said he had "made a mistake on our mortgage setup and that we'd have to bring an extra $4,000 to the closing". Something about he forgot to roll our construction loan into the life of the mortgage, and now it had to all be paid up-front.
While $4,000 may not sound like a lot of money now to some of you, as I mentioned, we were very young and did NOT have much savings or any means necessary to gather up that much money that fast. When I pleaded my case, I got the unsympathetic equivalent of "Well, that's tough. Bring it or no closing."
So how did this my scariest money story / nightmare end? Well, not good for our mortgage agent. Being completely shaken up and having no other choice, I decided to call at home the president of the home developing company and told him what was going on. Our house was already two months behind schedule, and then this situation with the mortgage happens? Needless to say, the president wasn't very impressed that this kind of nonsense was going on, and he assured me that everyone would be taken care of.
The next morning, we showed up at the closing and that extra $4,000 had somehow magically got written into the life of the mortgage. What I was told would be impossible seemed to have worked itself out over night! But I will tell you – both the home builder rep and mortgage agent didn't say a word. I guess they were pretty upset. That was the quietest, most tense meeting I've ever been to!
Not long after that, we noticed that the company this mortgage agent worked for was gone and his name was removed from the sign. I don't know if he quit or was fired. Hopefully he wasn't screwing up young couples' mortgages anymore.
8 years later when we refinanced our house, I put the poor guy through hell asking him up and down, left and right everything I could about the terms and conditions of the loan. He was a good sport, and understood that a lot of good people were left with a bad taste in their mouth from the whole mortgage fiasco over the past decade.
Image Credit: freedigitalphotos.net