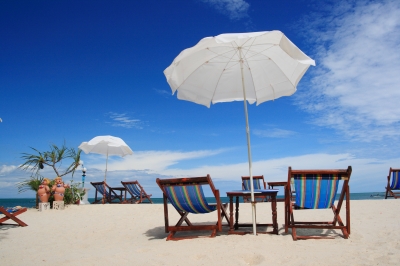 We all need a vacation from time to time, right? But, you're living on a budget – you live paycheck to paycheck. How can you ever afford to go on awesome vacations on a budget?
Well, I am here to tell you how! Going on a vacation does not mean you have to give up your dreams for financial freedom.  In fact if you pick the right places to look I think you'll find it's pretty easy to come up with the money you need to take that trip of your dreams.
When you're single, you don't consider things like being able to afford a vacation, but when you have a family, it can get pretty expensive quickly. However, taking time out from your everyday routine of work, email, phones, chores at home, and whatever else keeps you disconnected from your family is very important. They'll remember the time spent as a family, making memories and having fun.  And the best part is that it won't drain your family's finances.
You Can Stretch Your Vacation Dollars:
Though it is true that the rising costs of gas and airfare are making everything more expensive, you can still find transportation deals, if you look. Airports located in places like Seattle, Miami, and Los Angeles seem to always have sale prices on their tickets. Additionally, you may be able to snag some deals on lodging and local attractions with the airfare promotions.
Consider a destination that is close to home to save some money on travel expenses. Driving will most likely be your cheapest travel option- even with the price of gas- because your vehicle won't charge you by the passenger like airfare would.
When you're calling around to make reservations for lodging and restaurants, ask them if they have any budget deals for families on vacations. Many locations are learning that families are very important in the travel industry, and being family friendly pays off. Also, don't forget about those discounts that are offered by some of those membership organizations- AARP, AAA, and many others.
Some hotels offer deals where kids stay free. Some of the hotels will charge a fee for a folding cot, but you can purchase some lightweight sleeping bags and have the kids sleep on the floor.
To cut back on the cost of food when travelling, look for restaurants that feature a kids' menu. Some restaurants even have deals where kids can eat for free. Or, consider a hotel that has refrigerators in the rooms, so that you can purchase food and prepare meals yourself. Hotels that offer the free breakfast buffets give you access to the most important meal of the day at zero cost- which can save lots of money.
Finally, when you get to your final destination, look at various options for transportation. Mass transit- buses, trolleys, etc- can save you tons of money versus the cost of a rental car. Also, look into renting bicycles, mopeds, or even golf carts (if the local traffic allows it). Additionally, don't forget about things like trains, boats, or walking. When you walk, you'll see more than you would just whizzing by on standard transportation.
There are also lots of other things you can do fairly inexpensive such as visiting local beaches, national parks, or even going on cruises when living on a budget.
My Top 5 Ideas for Vacations on a Budget:
There are lots of destinations that you can go when you're travelling on a budget. The following are five of my favorite vacations on a budget. You can always find ways to cut back on the money you're spending without cutting back on the fun.
1) San Francisco, California
Sure, San Francisco does have a reputation of being quite expensive to stay in. However, consider staying in Marin County in some of those high value B & B's or hotels. There, you can take the ferry to the city. The kids will have a blast on the ferry and you won't have to deal with the downtown traffic. Once you are downtown, you can buy a pass to ride the trolleys all over town, or take a walk through Union Square to Chinatown for a quick lunch.
Also, take the bus to Fisherman's Wharf and jump on the trolley to head back to Embarcadero and the Ferry Building, which has a really great outdoor farmers' market and indoor food market. You can also consider visiting the zoos and museums, or the Golden Gate Park- which all have great bus connections.
2) Negril, Jamaica
Negril has been called the "capital of casual." Many years ago, it was a hippie hangout. Though most of the island is dominated by the all-inclusive resorts, Negril actually has family friendly lodges, run by families, offering rooms for about fifty dollars a night- and also offer summer-season discounts.
The seven mile beach, with the kid-friendly shoreline and gentle waves makes Negril a famous hot spot. There are kayak rentals and snorkeling available for adults and older kids. Additionally, there are day trips you can take away from the resort, such as Mayfield Falls. The falls are very beautiful and are typically not crowded. Also available are discounts on flights to Montego Bay.
3) Western Ireland
You will find that it's fairly easy to find discounted flights to Shannon, on the southwest coast of Ireland. Once you are there, you are near great sights such as the Cliffs of Moher, the Dingle Peninsula, the Burren, and the Ring of Kerry. You can hire a guide fairly inexpensively or just explore on your own with a map.
You can catch a trail from one village to the next and find accommodations at guesthouses that are well under $100 per night.
Though the region is most famous for the beautiful stark-white cliffs and the rolling emerald hills, you will also find some really great beaches, and museums. You will also want to take some time to visit Bunratty Castle and Folk Park.
4) Belize, Central America
Next to Guatemala and South of Mexico, Belize is actually a really great destination for the family on a budget vacation. There are lots of cabana, lodges, huts on the beach, and rooms that start around $75 per night. Since the rainy season is June through July, there is an even more significant decrease in their lodging prices.
Visit the Belize Zoo, located in Belize City, or the islands in the Caribbean Sea and the Cays. About half an hour inland, there is the Community Baboon Sanctuary. For a truly island experience, take a boat ride or a flight to any of the hundreds of beautiful nearby islands.
5) The Black Hills, South Dakota
Another great stateside vacation spot for those on a budget is the Black Hills in South Dakota. There, you will find an unmatched history of the Old West. Additionally, there are some of the best camping and trout fishing spots and wide open spaces.
Take the kids and explore many of the historical sites such as Mount Rushmore, Black Hills National Forest, Custer State Park, Devils Tower, and much more. To enjoy the fresh air and get some great exercise, bring your bicycles and travel through the six national parks, forests, and mountains with over 100 miles of scenic byways.
There are too many vacations on a budget available to mention them all here, but this list can definitely get you started and give you some ideas on how to save money. You're guaranteed to make some great memories without breaking the bank!
Images courtesy of FreeDigitalPhotos.net